YOUR FIRST CLIMATE ACCOUNT
In this workshop, we will help you set the boundaries for the calculation and data collection of your climate accounts. Together we will help you plan how to complete your climate accounting. More specifically, we will review and work with the following:
Introduction to the GHG (Greenhouse Gas) Protocol
Boundary-setting in terms of time period, organization, and activities
Data collection and calculation
Defining project scope and activities
If you want to know more about this workshop, please fill in the contact form at the bottom of the page.
Previous workshops on climate accounting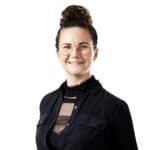 In 2022, Line Amtorp Poulsen facilitated a workshop on Boundary Setting for Polar Seafood, helping the company to set the framework for their first climate account.
Want to learn more about climate accounting? Reach out today!